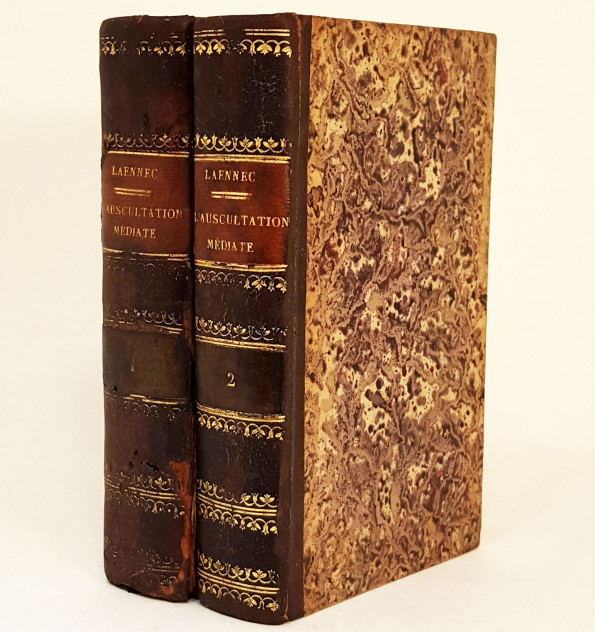  
Traité de l'auscultation médiate et des maladies des poumons et du coeur.
Laennec René-Théophile-Hyacinte
Paris, J.-S. Chaudé, 1826. Seconde édition augmentée par l'auteur.


Deux volumes in-8 de XXXVI + 728 + 790 pp.
Demi veau foncé, dos lisse orné de filets et de frises dorés, pièce de titre havane, pièce de tomaison verte foncée, tranches chaunes jaspées. Reliures de l'époque.
Mors inférieur du premier plat du premier volume fendu sur 8 cm, petit manque de cuir au mors inférieur du dernier plat du dernier volume.
Édition composée de 8 planches en couleurs in-fine et du feuillet d'erratum.

René Laennec est le créateur du diagnostic médical par auscultation, grâce à l'invention du stéthoscope.
"This edition is (.) the most important treatise on diseases of the thoracic organs ever written" (Garrison, History of Medecine, p. 412).

L'exemplaire comprend une dédicace en page de faux titre :
" A mon maître et ami le professeur Merklen, souvenir de décembre 1924. JA Barré".
Deux ex-dono en page de titre.
L'exemplaire est frais.

Bon exemplaire en couleurs de ce livre fondateur, malgré les défauts signalés à la reliure.
Data sheet
Title

Traité de l'auscultation médiate et des maladies des poumons et du coeur.

Author

Laennec René-Théophile-Hyacinte

Editor

J.-S. Chaudé

Location

Paris

Date

1826