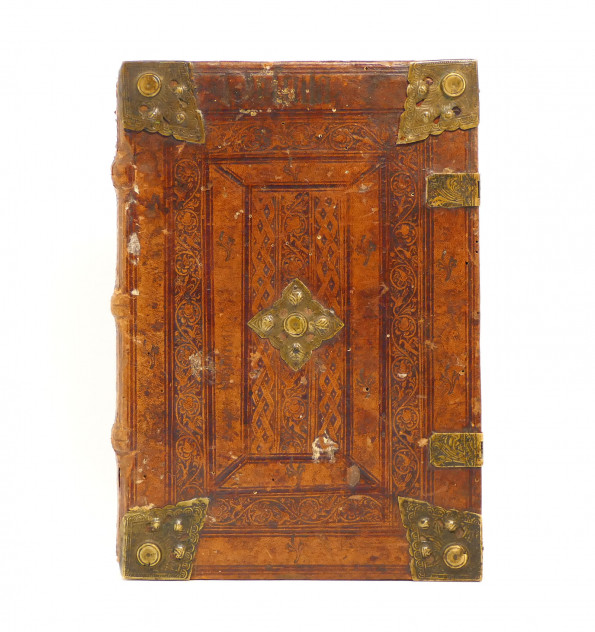  
Postilla super epistolas et evangelia de tempore et sanctis et prodefunctis.
Guilelmus Parisiensis, Herolt Johannes
Strasbourg, Printer of the 1483 Jordanus de Quedlinburg (Georg Husner), 4 Mars 1493.
Folio (20 x 29 cm) de 120 feuillets (sans les deux feuillets blancs d'entrée et de fin de volume).
Veau sur ais de bois, dos à nerfs orné à froid, riche décor à froid sur les plats avec filets d'encadrements, entrelacs et motifs floraux, "Postilla" estampé à froid en partie supérieure, écoinçons et cabochon, traces de fermoirs métalliques. Reliure de l'époque. Manque les deux écoinçons supérieurs du second plat, coiffe supérieure frottée. La reliure est typique d'Augsbourg [Kyriss 86, EBDB w002155]. Très belle impression sur deux colonnes.
L'incunable est entièrement rubriqué en rouge avec de belles initiales peintes se perdant dans les marges. Un petit manque de papier en partie inférieure du feuillet de titre. L'exemplaire est frais.
Le "Postilla" est traditionnellement attribué au dominicain parisien Guillermus, mais son auteur est en réalité Johannes Herolt. GW 11972; BMC I 142.
Provenance : Carl Ludwig von Puechpaumb (1686).
Splendide incunable strasbourgeois conservé dans sa première reliure d'origine Allemande.
Data sheet
Author

Guilelmus Parisiensis, Herolt Johannes

Editor

Jordanus de Quedlinburg (Georg Husner)

Location

Strasbourg

Date

1493