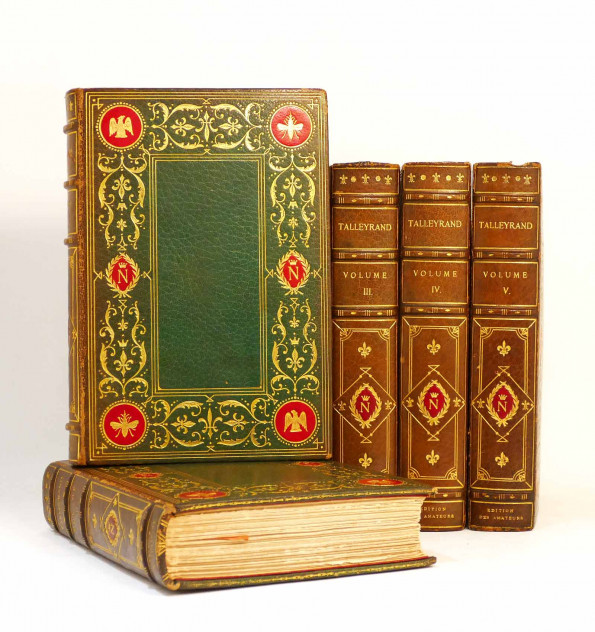  
Memoirs. Edited by the Duc de Broglie. Introduction by Whitelaw Reid.
Charles-Maurice de Talleyrand
London, The Grolier Society, 1900.

5 volumes forts in-8 (15,5 x 23 cm).

Plein maroquin vert, dos à nerfs orné de caissons dorés, de fleurs de Lys dorées et du N couronné sur fond de maroquin rouge, riche décor doré sur les plats, 6 médaillons de maroquin rouge aux attributs napoléoniens par plats, frise dorée sur les coupes, contre-plats doublés de maroquin rouge avec au centre les armes impériales dorées, gardes de soie rouge.

Reliure de l'éditeur. Dos insolés et défauts aux coiffes.

Édition tirée à 26 exemplaires. Notre exemplaire comprend 29 planches en couleurs et à pleine page ainsi qu'une suite des planches en noir tirées sur papier Japon.

Ex-libris : Military Collection Anne S.K. Brown.

Précieux exemplaire.
Data sheet
Title

Memoirs. Edited by the Duc de Broglie. Introduction by Whitelaw Reid.

Author

Charles-Maurice de Talleyrand

Editor

The Grolier Society

Location

London

Date

1900