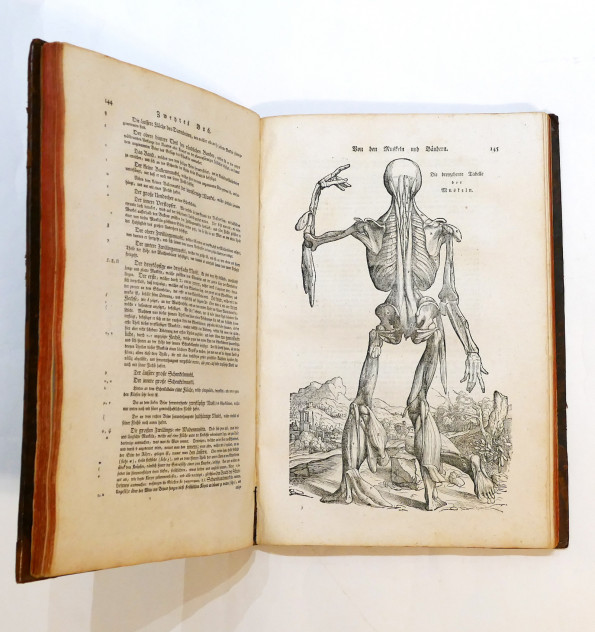  
Anatomische Erklärung der Original-Figuren...
Vésale A., Palmaz Leveling H.
...von Andreas Vesal, samt einer wendung der Winslowischen Zergliederungslehre.

Ingolstadt, Anton Attenkhouer, 1783.

In-folio (29 x 41 cm) de 13 ff. n. ch. (y compris le frontispice et la page de titre) + 328 pp. Plein veau marbré, dos à légers nerfs orné de caissons et de fleurons dorés, pièces de titres havanes, filets à froid sur les plats, tranches rouges. Reliure de l'époque. Restaurations en coiffe inférieure et aux angles.

Très belle édition composée d'un frontispice mettant en scène une assemblée devant un corps ouvert, 2 gravures dépliantes à pleine page, 21 gravures à pleine page et 200 figures dans le texte. L'ensemble est gravé sur bois. Seconde édition après celle de 1781, tirée à 1500 exemplaires.

Les gravures sont tirées des bois originaux provenant de la collection du professeur von Woltter. "The chief physician von Woltter had acquired, probably from Maschenbauer's legacy in Augsburg, all the original woodcuts from Vesalius' anatomic works. However, the eighth muscle plate was replaced by an inferior copy... 12 smaller drawings, the blocks of which had been lost, were re-engraved, and fairly well-done by a Munich artist for the use of this edition... the work contains the older woodcut title of 1543 and all the woodcuts of the edition of the chief work of 1555; from the Epitome only the illustrations of the two nude figures are taken... This work was prepared by Leveling at Woltter's request; the edition comprised 1500 copies" (Choulant-Fr.). L'exemplaire comprend la liste des souscripteurs de cet ouvrage (3 feuillets). Les gravures sur bois sont bien encrées et l'ouvrage a de bonnes marges. Des annotations anciennes çà et là et une légende manuscrite page 97. Une des deux planches dépliantes comprend une restauration. Une mouillure sur les deux derniers feuillets blancs. André Vésale (Bruxelles 1514 - Zakynthos 1564) est considéré comme le plus grand anatomiste de la Renaissance.

 
Data sheet
Author

Vésale A., Palmaz Leveling H.

Editor

Anton Attenkhouer

Location

Ingolstadt

Date

1783