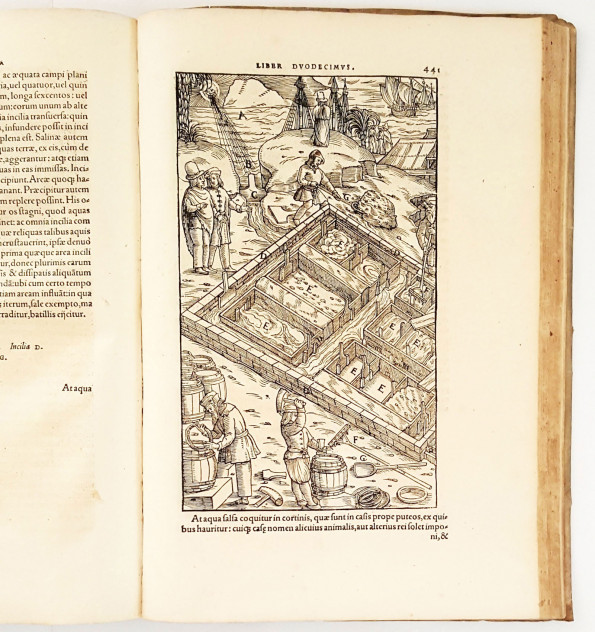  
De re metallica libri XII.
Agricola Georgius (Bauer Georg)
Eiusdem de animantibus subterraneis liber, ab autore recognitus.

Basel, Froben & Episcopius, 1561.
In-folio (24,5 x 33,5 cm) de 6 ff.n.ch. + 502 pp. + 37 ff.n.ch.
Plein vélin ivoire, dos lisse titré à l'encre noire, traces de lacets. Une déchirure au dos laisse entrevoir un nerf. Reliure de l'époque. Petites traces de vers sur les contre-plats et légère mouillure en marge du feuillet de titre.
Édition composée de 2 tableaux gravés sur bois, de 267 gravures dans le texte ou à pleine page et de 23 figures géométriques. L'exemplaire comprend également les marques de l'imprimeur en page de titre et en fin d'ouvrage.
Seconde édition identique à la première imprimée chez Froben en 1556.

Ouvrage mythique de minéralogie et de métallurgie. Un des grands livres de science, le premier sur le sujet.
Il décrit le travail des mines, l'exploration minière, les fours et le traitement des minerais.
Les gravures d'un grand réalisme, nous plongent dans l'univers d'un centre minier au milieu du XVIe siècle et nous font l'état des connaissances mécaniques, physiques et géologiques du temps.
"one of the first technological books of modern times". P.M.M., n°79.

L'exemplaire est très pur et il possède de grandes marges. Très beau livre conservé dans sa première reliure.

 
Data sheet
Author

Agricola Georgius (Bauer Georg)

Editor

Froben &amp Episcopius

Location

Basel